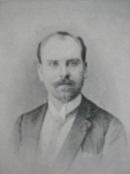 Alfred Cottin
Dates
c. 1863 - c. 1923
Works
26
40
Biography
Alfred Cottin was born in Paris in 1863.
There is not so much known about his life.
He was a student of the guitarist Jaime ( Jacques) Bosch.
He was the author of a method for guitar and composed some pieces for guitar in the taste of this time period, which are not so difficult.
He was very active in the musical life of the city of Paris.
As friend of Francisco Tarrega he organised his concerts in Paris. It is told that Tarrega was entertained by Cottins guitar playing very well.
Thats the reason why Alfred Cottin is perhaps best known today as the guitarist to whom Tárrega dedicated "Recuerdos de la Alhambra", which carries the dedication "Hommage à l'eminent artiste Alfred Cottin".
Some people say that Cottin was a student of Tarrega. This is not correct and doesn't fit to this dedication.
He died in January the 18th 1923 in Paris.
Works for Guitar
Ballade du Fou
Sous les palmiers
Balalayka (Chanson Russe)
Fleurs de fete
Barcarolle
Echos du soir
Romance sans paroles
Sur le lac
Ballade circassienne
Habanera
Les Libellules
La chanson du passeur
Les clochetttes
Danse des lutins
Jour d'automne
Source:
www.classicalguitar.nl/alfred_cottin.aspx
Most viewed music
All music