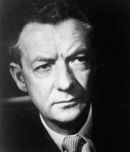 Benjamin Britten
Dates
22 Nov 1913 - 4 Dec 1976
Biography
Edward Benjamin Britten, Baron Britten was an English composer, conductor, and pianist. He was a central figure of 20th-century British music, with a range of works including opera, other vocal music, orchestral and chamber pieces. His best-known works include the opera Peter Grimes (1945), the War Requiem (1962) and the orchestral showpiece The Young Person's Guide to the Orchestra (1945).
The above text from the Wikipedia article "Benjamin Britten" text is available under CC BY-SA 3.0.
You may also find sheet music by Britten on Sheet Music Plus.
Other names
bg:Бенджамин Бритън, el:Μπέντζαμιν, Μπρίτεν, fa:بنجامین بریتن, ko:벤저민, 브리튼, hy:Բենջամեն Բրիտտեն, he:בנג'מין בריטן, la:Beniaminus Britten, ja:ベンジャミン,ブリテン, ru:Бенджамин,Бриттен, sr:Едвард Бенџамин, Бритн, uk:Бенджамін, Бріттен, zh:本杰明,布里顿