Piano Sonata No. 7
Piano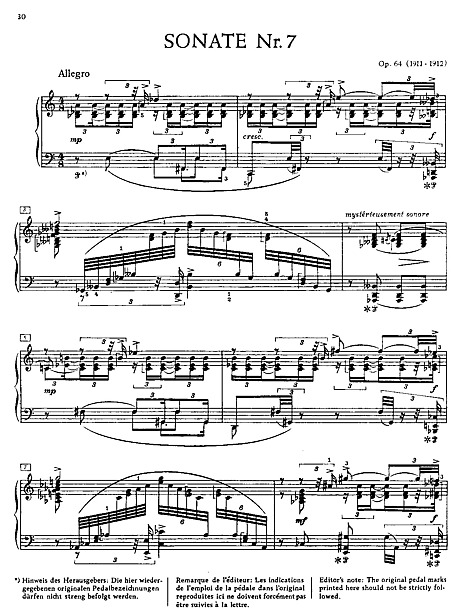 Composer
Opus
Op. 64
Year composed
1911-12
Pages
22
Instruments
Type
Difficulty
Licence
Uploaded by
Filesize
2.31 MB
Listen
Be the first to add a recording or video.
The Piano Sonata No. 7, Op. 64, subtitled White Mass, was written by Alexander Scriabin in 1911. As one of the late piano sonatas of Scriabin's career, the music is highly chromatic and almost atonal. George Perle says that, "the primary set upon which the Seventh Sonata is based," is, in linear order as spelled by Scriabin, E, F♯, G, A, B♭, C, D♭, and that the mystic chord may be derived from the quartal spelling of this set.
The above text from the Wikipedia article "Sonata No. 7 (Scriabin)" text is available under CC BY-SA 3.0.
Free sheet music on other sites
Other users also liked
---