Symphony No. 9
Ode To Joy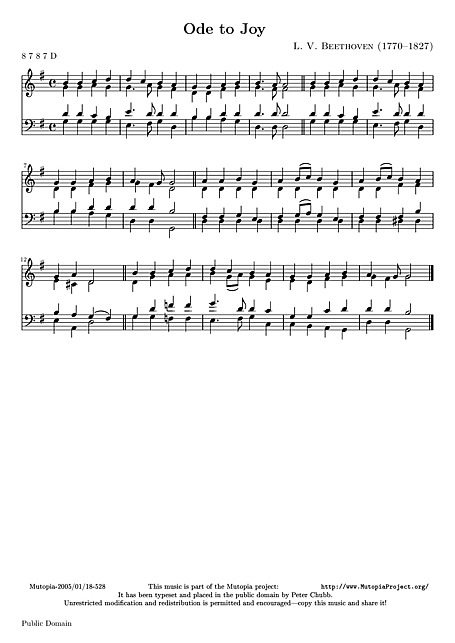 Composer
Opus
Op. 125
Tonality
Pages
1
Instruments
Type
National Anthem: European Union, Classic
Licence
Uploaded by
Filesize
35.0 KB
Listen
MIDI Public domain

upload.wikimedia.org

youtube.com

Beaker from The Muppets "meeps" Ode to Joy.

youtube.com

Conductor
Orchestra
Soprano
Mezzo-Soprano
Tenor
Bass
Chorus

youtube.com
About
The Symphony No. 9 in D minor, Op. 125, is a choral symphony, the final complete symphony by Ludwig van Beethoven, composed between 1822 and 1824. It was first performed in Vienna on 7 May 1824. The symphony is regarded by many critics and musicologists as Beethoven's greatest work and one of the supreme achievements in the history of music. One of the best-known works in common practice music, it stands as one of the most performed symphonies in the world.
The above text from the Wikipedia article "Symphony No. 9 (Beethoven)" text is available under CC BY-SA 3.0.
Other sub titles
ar:إلى السعادة, br:Kanenn d'al Levenez, bg:Ода на радостта, cs:Óda na radost, da:An die Freude, de:Ode an die Freude, el:Ύμνος στη Χαρά, es:Oda a la Alegría, eo:Odo al Ĝojo, fr:Ode à la joie, ko:환희의 송가, hr:Oda radosti, id:Ode an die Freude, ia:Ode al Gaudio, it:An die Freude, he:האודה לשמחה, ka:ევროკავშირის ჰიმნი, hu:Örömóda, nl:Ode an die Freude, ja:歓喜の歌, no:Ode til gleden, pl:Oda do radości, pt:Hino à Alegria, ro:Odă bucuriei, ru:Ода к радости, sk:Óda na radosť, sl:Oda radosti, sr:Ода радости, fi:Oodi ilolle, sv:Till glädjen, vi:Ode hoan ca, tr:Neşeye Övgü, zh:歡樂頌
Other arrangements
Free sheet music on other sites
Buy printed editions
We have selected some printed editions we think may be useful.
Other users also liked
---