Hark! The Herald Angels Sing
Voice, SATB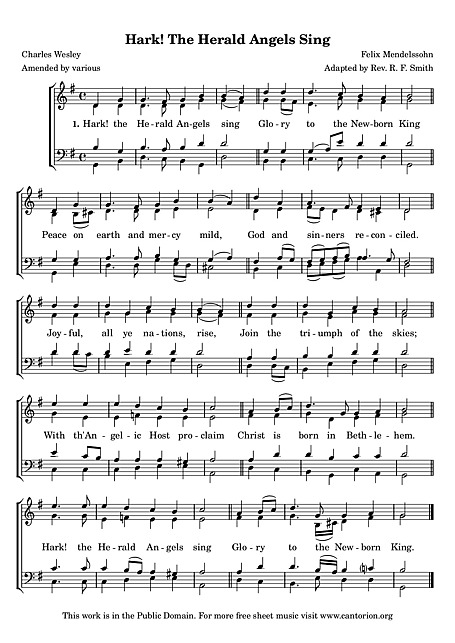 Composer
Year composed
1840
Pages
2
Instruments
Lyricist
Type
Licence
Uploaded by
Filesize
128 KB
Listen
Choir
Venue
King's College Cambridge
Carols from King's, 2011

youtube.com
About
This is a transcription from Rev. Richard R. Chope, Carols For Use In Church (London: William Clowes & Sons, 1894).
For a scan of the original, including a detailed dynamics scheme, visit
www.hymnsandcarolsofchristmas.com
"Hark! The Herald Angels Sing" is an English Christmas carol that first appeared in 1739 in the collection Hymns and Sacred Poems. As it is known in the modern era, it features lyrical contributions from Charles Wesley and George Whitefield, two of the founding ministers of Methodism, with music adapted from "Vaterland, in deinen Gauen" by Felix Mendelssohn.
The above text from the Wikipedia article "Hark! The Herald Angels Sing" text is available under CC BY-SA 3.0.
Other arrangements
Free sheet music on other sites
Other users also liked
---