Piano Concerto No. 1
1. Allegro con brio (full score)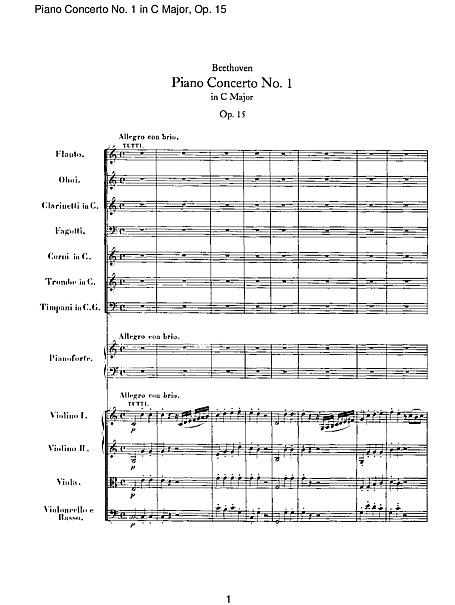 Composer
Opus
Op. 15
Tonality
Year composed
1796-7
Pages
36
Instruments
Type
Licence
Uploaded by
Filesize
2.02 MB
Listen
Be the first to add a recording or video.
No reviews yet
Ludwig van Beethoven's Piano Concerto No. 1 in C major, Op. 15, was written in 1795, then revised in 1800. The first performance took place on 18 December 1795 in Vienna with Beethoven himself as soloist. It was first published in 1801 in Vienna with dedication to his pupil Princess Anna Louise Barbara Odescalchi, known to her friends as "Babette".
The above text from the Wikipedia article "Piano Concerto No. 1 (Beethoven)" text is available under CC BY-SA 3.0.
Other arrangements
Free sheet music on other sites
Other users also liked
---