Piano Concerto No. 5 "Emperor"
2. Adagio un poco mosso (full score)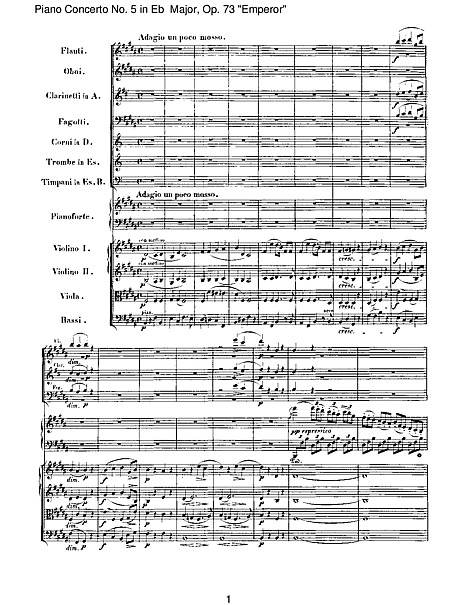 Composer
Opus
Op. 73
Tonality
Year composed
1809-11
Pages
7
Instruments
Type
Licence
Uploaded by
Filesize
430 KB
The Piano Concerto No. 5 in E♭ major, Op. 73, by Ludwig van Beethoven, popularly known as the Emperor Concerto, was his last completed piano concerto. It was written between 1809 and 1811 in Vienna, and was dedicated to Archduke Rudolf, Beethoven's patron and pupil. The first performance took place on 13 January 1811 at the Palace of Prince Joseph Lobkowitz in Vienna, with Archduke Rudolf as the soloist, followed by a public concert on 28 November 1811 at the Gewandhaus in Leipzig under conductor Johann Philipp Christian Schulz, the soloist being Friedrich Schneider. On 12 February 1812, Carl Czerny, another student of Beethoven's, gave the Vienna debut of this work.
The above text from the Wikipedia article "Piano Concerto No. 5 (Beethoven)" text is available under CC BY-SA 3.0.
Other arrangements
Free sheet music on other sites
Other users also liked
---