2 Rhapsodies
No. 2 in G minor.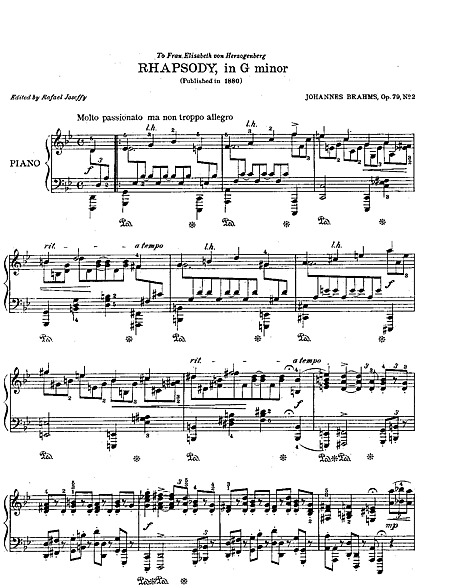 Composer
Opus
Op. 79
Year composed
1879
Pages
9
Instruments
Difficulty
Licence
Uploaded by
Filesize
507 KB
Listen
Be the first to add a recording or video.
The Rhapsodies, Op. 79, for piano were written by Johannes Brahms in 1879 during his summer stay in Pörtschach, when he had reached the maturity of his career. They were inscribed to his friend, the musician and composer Elisabeth von Herzogenberg. At the suggestion of the dedicatee, Brahms reluctantly renamed the sophisticated compositions from "Klavierstücke" to "rhapsodies".No. 1 in B minor. Agitato is the more extensive piece, with outer sections in sonata form enclosing a lyrical central section in B major and with a coda ending in that key. No. 2 in G minor. Molto passionato, ma non troppo allegro is a more compact piece in a more conventional sonata form.
The above text from the Wikipedia article "Rhapsodies, Op. 79 (Brahms)" text is available under CC BY-SA 3.0.
Other arrangements
Free sheet music on other sites
Buy printed editions
We have selected some printed editions we think may be useful.
$5.99
Piano Solo
G. Schirmer
Other users also liked
---