Variations on a Theme by Haydn
Piano Duet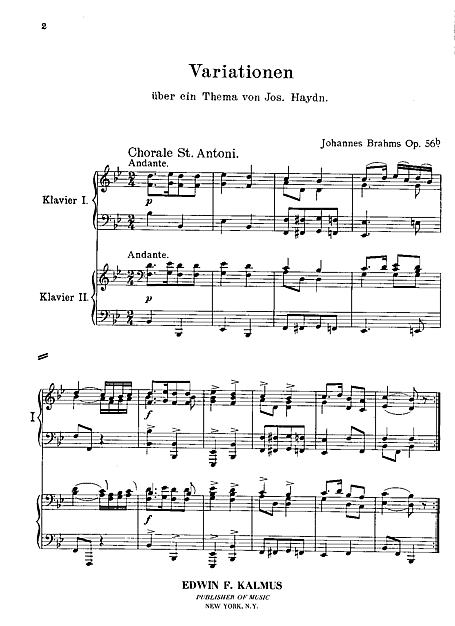 Composer
Opus
Op. 56b
Year composed
1873
Pages
32
Instruments
Type
Difficulty
Licence
Uploaded by
Filesize
3.22 MB
Listen
Be the first to add a recording or video.
The Variations on a Theme by Joseph Haydn,, now also called the Saint Anthony Variations, is a work in the form of a theme and variations, composed by Johannes Brahms in the summer of 1873 at Tutzing in Bavaria. It consists of a theme in B♭ major based on a "Chorale St Antoni", eight variations, and a finale. The work was published in two versions: for two pianos, written first but designated Op. 56b; and for orchestra, designated Op. 56a.
The above text from the Wikipedia article "Variations on a Theme by Haydn" text is available under CC BY-SA 3.0.
Free sheet music on other sites
Buy printed editions
We have selected some printed editions we think may be useful.
Other users also liked
---