Brandenburg Concerto No. 2
Full score (typeset)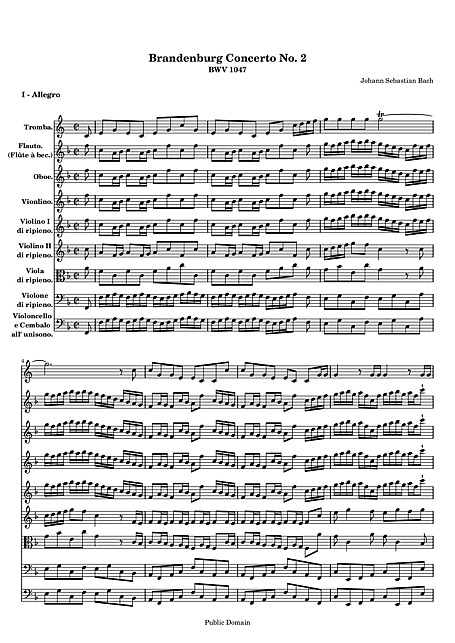 Composer
Opus
BWV 1047
Tonality
Cycle
Pages
30
Instruments
Type
Licence
Uploaded by
Filesize
583 KB
Listen
Be the first to add a recording or video.
The Brandenburg Concertos by Johann Sebastian Bach are a collection of six instrumental works presented by Bach to Christian Ludwig, Margrave of Brandenburg-Schwedt, in 1721. They are widely regarded as some of the best orchestral compositions of the Baroque era.
The above text from the Wikipedia article "Brandenburg concertos" text is available under CC BY-SA 3.0.
Other arrangements
Free sheet music on other sites
Buy printed editions
We have selected some printed editions we think may be useful.
$6.50
Harpsichord
Edition Peters

$12.95
Recorder, Trumpet
Baerenreiter
Other users also liked
---