Piano Sonata No. 14 "Moonlight"
Piano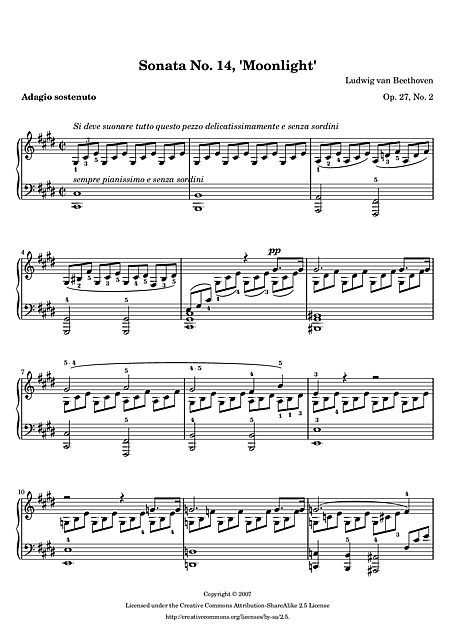 Composer
Opus
Op. 27/2
Year composed
1801
Pages
23
Instruments
Type
Licence
Uploaded by
Filesize
431 KB
About
The Piano Sonata No. 14 in C-sharp minor, marked Quasi una fantasia, Op. 27, No. 2, is a piano sonata by Ludwig van Beethoven. It was completed in 1801 and dedicated in 1802 to his pupil Countess Giulietta Guicciardi. The popular name Moonlight Sonata goes back to a critic's remark after Beethoven's death.
The above text from the Wikipedia article "Piano Sonata No. 14 (Beethoven)" text is available under CC BY-SA 3.0.
Other arrangements
Free sheet music on other sites
Buy printed editions
We have selected some printed editions we think may be useful.
Other users also liked
---