Christmas Oratorio
Vocal score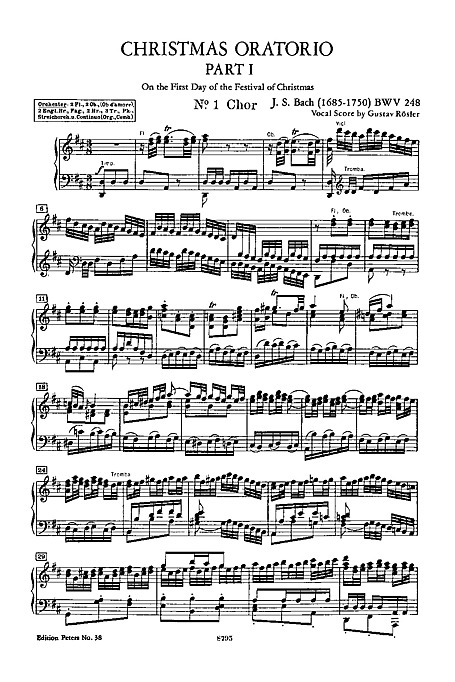 Composer
Opus
BWV 248
Pages
160
Arranger
Instruments
Licence
Uploaded by
Filesize
9.24 MB
Listen
Conductor

youtube.com
The Christmas Oratorio, BWV 248, is an oratorio by Johann Sebastian Bach intended for performance in church during the Christmas season. It was written for the Christmas season of 1734 and incorporates music from earlier compositions, including three secular cantatas written during 1733 and 1734 and a largely lost church cantata, BWV 248a. The date is confirmed in Bach's autograph manuscript. The next performance was not until 17 December 1857 by the Sing-Akademie zu Berlin under Eduard Grell. The Christmas Oratorio is a particularly sophisticated example of parody music. The author of the text is unknown, although a likely collaborator was Christian Friedrich Henrici (Picander).
The above text from the Wikipedia article "Christmas Oratorio" text is available under CC BY-SA 3.0.
Other arrangements
Free sheet music on other sites
Buy printed editions
We have selected some printed editions we think may be useful.
Other users also liked
---