Scheherezade
1. The Sea and Sinbad's Ship (full score)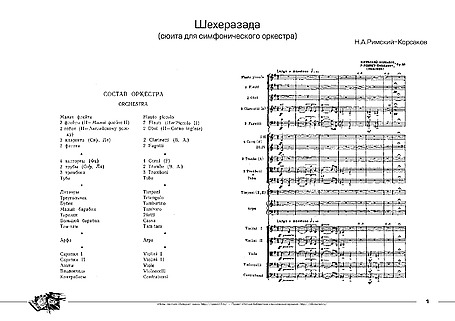 Composer
Pages
23
Instruments
Licence
Uploaded by
Filesize
3.67 MB
Listen
Orchestra
Conductor
The Sea and Sinbad's Ship (El Mar y el barco de Simbad)

youtube.com
Scheherazade is a major female character and the storyteller in the frame narrative of the Middle Eastern collection of tales known as the One Thousand and One Nights.
The above text from the Wikipedia article "Scheherezade" text is available under CC BY-SA 3.0.
Other sub titles
es:1. El Mar y el barco de Simbad, pt:1. O Mar e o Navio de Simbad, fr:1. La mer et le vaisseau de Simbad, de:1. Das Meer und Sinbads Schiff, nl:1. De Zee en Sinbads Schip, zh:1. 大海和辛巴达的船, ja:第1楽章《海とシンドバッドの船》, ru:1. Море и корабль Синбада
Other arrangements
Buy printed editions
We have selected some printed editions we think may be useful.
$2.50
Piano
Alfred Publishing
Other users also liked
---