Scheherezade
4. Festival At Baghdad. The Sea. The Ship Breaks against a Cliff (full score)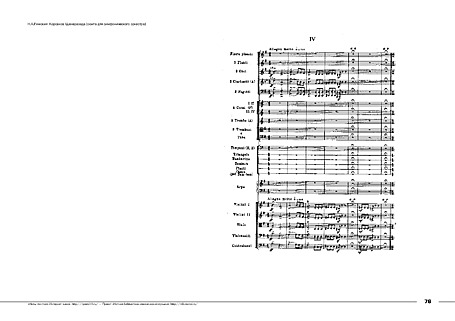 Composer
Pages
67
Instruments
Licence
Uploaded by
Filesize
10.7 MB
Listen
Be the first to add a recording or video.
Scheherazade is a major female character and the storyteller in the frame narrative of the Middle Eastern collection of tales known as the One Thousand and One Nights.
The above text from the Wikipedia article "Scheherezade" text is available under CC BY-SA 3.0.
Other sub titles
es:4. Festival en Bagdad. El Mar. El barco encalla contra un acantilado superado por el Jinete de Bronce, pt:4. Festa em Bagdá - Naufrágio do Barcos nas Rochas, fr:4. Fête à Bagdad - La Mer - Le Vaisseau se brise sur un rocher surmonté d'un guerrier d'airain, de:4. Feier in Bagdad. Das Meer. Das Schiff zerschellt an einer Klippe unter einem bronzenen Reiter, nl:4. Feest in Bagdad; De Zee; De Schipbreuk en de Magneetberg, zh:4. 巴格达的盛宴—大海的船难, ja:第4楽章《バグダッドの祭り。海。船は青銅の騎士のある岩で難破。終曲》, ru:4. Базар в Багдаде
Other arrangements
Buy printed editions
We have selected some printed editions we think may be useful.
$2.50
Piano
Alfred Publishing
---