Prince Igor
Overture (study score)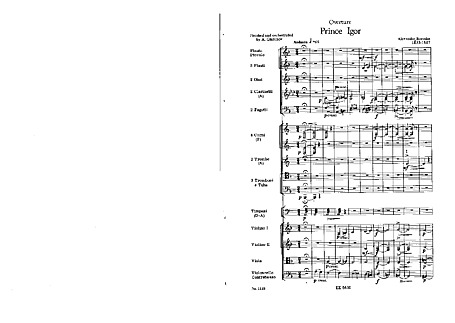 Composer
Pages
35
Instruments
Type
Licence
Uploaded by
Filesize
3.17 MB
Listen
Be the first to add a recording or video.
Prince Igor is an opera in four acts with a prologue, written and composed by Alexander Borodin. The composer adapted the libretto from the Ancient Russian epic The Lay of Igor's Host, which recounts the campaign of Rus' prince Igor Svyatoslavich against the invading Cuman ("Polovtsian") tribes in 1185. He also incorporated material drawn from two medieval Kievan chronicles. The opera was left unfinished upon the composer's death in 1887 and was edited and completed by Nikolai Rimsky-Korsakov and Alexander Glazunov. It was first performed in St. Petersburg, Russia, in 1890.
The above text from the Wikipedia article "Prince Igor" text is available under CC BY-SA 3.0.
Free sheet music on other sites
Buy printed editions
We have selected some printed editions we think may be useful.
Other users also liked
---