Adeste Fideles "O Come All Ye Faithful"
Piano and Cello (Cello)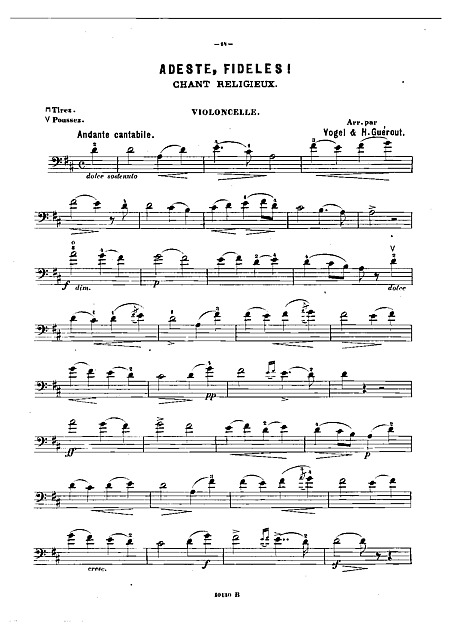 Composer
Pages
2
Arranger
Instruments
Type
Licence
Uploaded by
Filesize
298 KB
Listen
Tenor
Tenor
Tenor

youtube.com
About
Publisher Info.: Brunswick: Henry Litolff's Verlag, n.d. Plate 10130.B.
"O Come, All Ye Faithful" is a Christmas carol that has been attributed to various authors, including John Francis Wade (1711–1786), John Reading (1645–1692), King John IV of Portugal (1604–1656), and anonymous Cistercian monks. The earliest printed version is in a book published by Wade, but the earliest manuscript bears the name of King John IV, and is located in the library of the Ducal Palace of Vila Viçosa. A manuscript by Wade, dating to 1751, is held by Stonyhurst College in Lancashire.
The above text from the Wikipedia article "Adeste Fideles" text is available under CC BY-SA 3.0.
Other arrangements
Free sheet music on other sites
Other users also liked
---