Requiem
2. Dies Irae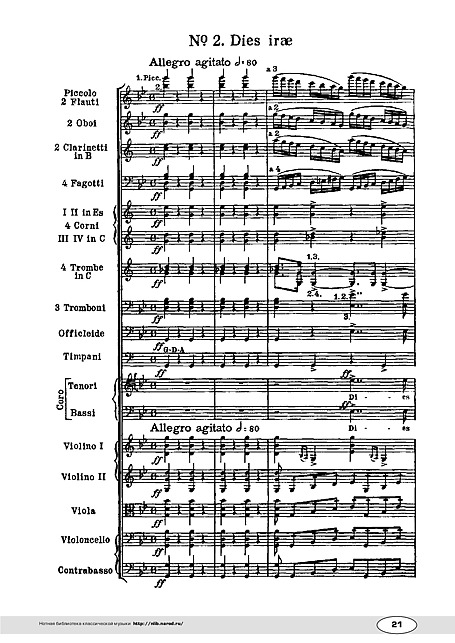 Composer
Year composed
1874
Pages
121
Instruments
Type
Licence
Uploaded by
Filesize
8.72 MB
Listen
Orchestra
Conductor
Soprano
Tenor
Mezzo Soprano
Bass
1967

youtube.com
About
Publisher: Leipzig: Ernst Eulenburg, n.d.(ca.1910), plate E.E. 4864
The Messa da Requiem is a musical setting of the Catholic funeral mass (Requiem) for four soloists, double choir and orchestra by Giuseppe Verdi. It was composed in memory of Alessandro Manzoni, an Italian poet and novelist whom Verdi admired. The first performance, at the San Marco church in Milan on 22 May 1874, marked the first anniversary of Manzoni's death. The work was at one time referred to as the Manzoni Requiem. Considered too operatic to be performed in a liturgical setting, it is usually given in concert form of around 90 minutes in length. Musicologist David Rosen calls it 'probably the most frequently performed major choral work composed since the compilation of Mozart's Requiem'.
The above text from the Wikipedia article "Requiem (Verdi)" text is available under CC BY-SA 3.0.
Other arrangements
Free sheet music on other sites
Buy printed editions
We have selected some printed editions we think may be useful.
Other users also liked
---