Yes, we love this country (
Ja, vi elsker dette landet

)
Voice, Piano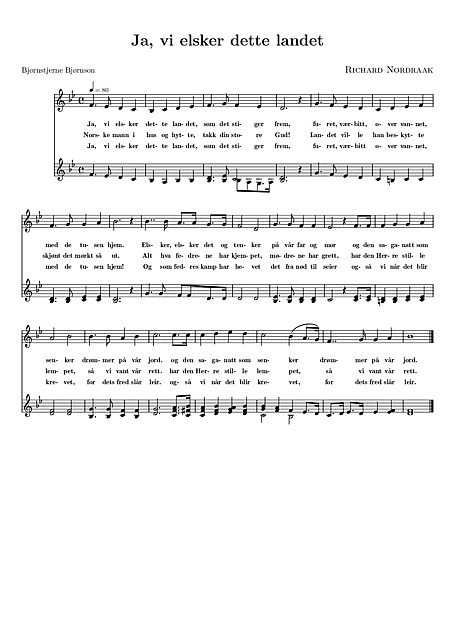 Composer
Pages
1
Instruments
Lyricist
Type
National Anthem: Norway
Difficulty
Licence
Uploaded by
Filesize
25.0 KB
Listen
Be the first to add a recording or video.
About
"Ja, vi elsker dette landet" is the Norwegian national anthem. Originally a patriotic song, it came to be commonly regarded as the de facto national anthem of Norway in the early 20th century, after being used alongside "Sønner av Norge" since the 1860s. It was officially adopted in 2019. The lyrics were written by Bjørnstjerne Bjørnson between 1859 and 1868, and the melody was written by his cousin Rikard Nordraak sometime during the winter of 1863 and 1864. It was first performed publicly on 17 May 1864 in connection with the 50th anniversary of the constitution. Usually only the first and the last two verses are sung.
The above text from the Wikipedia article "Ja, vi elsker dette landet" text is available under CC BY-SA 3.0.
Other users also liked
---