The Song of the Italians (
Il Canto degli Italiani

)
Government arragnement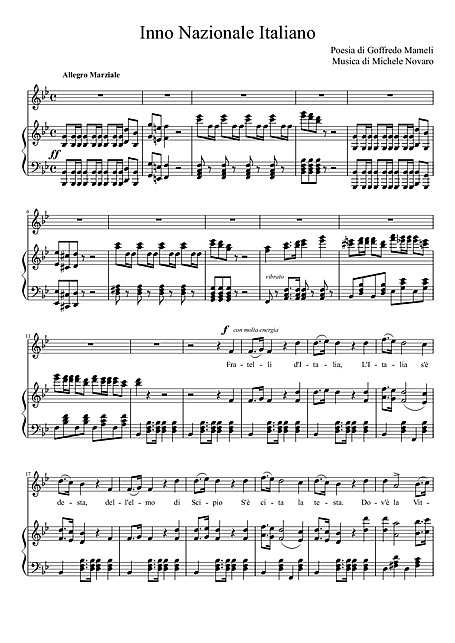 Composer
Year composed
1847
Pages
3
Instruments
Lyricist
Type
National Anthem: Italy
Difficulty
Licence
Uploaded by
Filesize
143 KB
Listen
Be the first to add a recording or video.
About
Published by Ministero della Difesa Repubblica Italiana
"Il Canto degli Italiani" is a canto written by Goffredo Mameli set to music by Michele Novaro in 1847, and is the current national anthem of Italy. It is best known among Italians as the Inno di Mameli, after the author of the lyrics, or Fratelli d'Italia, from its opening line. The piece, a 4/4 in B-flat major, consists of six strophes and a refrain that is sung at the end of each strophe. The sixth group of verses, which is almost never performed, recalls the text of the first strophe.
The above text from the Wikipedia article "Il Canto degli Italiani" text is available under CC BY-SA 3.0.
Other arrangements
Free sheet music on other sites
Other users also liked
---