Sonatina
Violin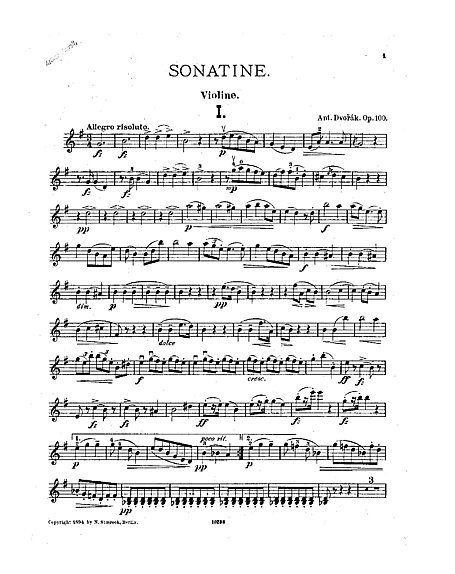 Composer
Opus
Op. 100, B.183
Tonality
Year composed
1893
Place of composition
Pages
7
Instruments
Type
Licence
Uploaded by
Filesize
703 KB
Listen
Be the first to add a recording or video.
About
Published by N. Simrock, 1894. Plate 10238. (Berlin)
The Sonatina in G major for violin and piano, Op. 100, B. 183, was written by Antonín Dvořák between November 19 and December 3, 1893, in New York City. It was the last chamber composition he wrote during his sojourn in the United States. Dvořák catered the sonatina to the gradually developing musical abilities of his children, especially those of his 15-year-old daughter Otilie and 10-year-old son Toník, who played piano and violin respectively. In a letter to Fritz Simrock on January 2, 1894, Dvořák conceived the piece in the following terms: "It is intended for youths, but even grown-ups, adults, should be able to converse with it..." The sonatina was published by Simrock in Berlin in 1894. It also exists in a version for cello and piano.
The above text from the Wikipedia article "Violin Sonatina (Dvořák)" text is available under CC BY-SA 3.0.
Free sheet music on other sites
Buy printed editions
We have selected some printed editions we think may be useful.
$7.99
Piano Accompaniment, Violin
G. Schirmer

$12.95
Piano, Violin
Edition Peters

$14.99
Flute, Piano
G. Schirmer
Other users also liked
---