Symphony No. 7
Blessed Redeemer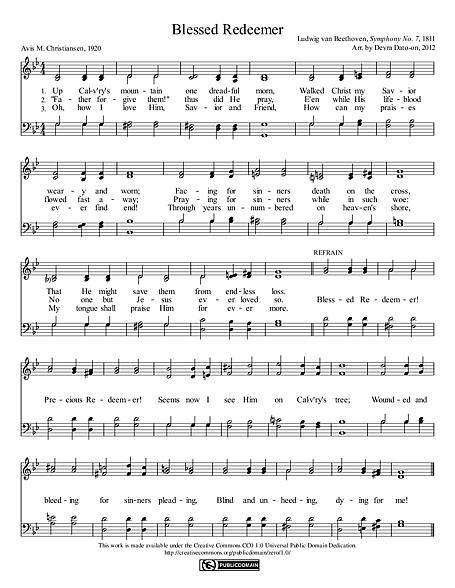 Composer
Opus
Op. 92
Tonality
Pages
1
Arranger
Instruments
Lyricist
Type
Licence
Filesize
45.8 KB
Listen
Be the first to add a recording or video.
No reviews yet
About
Lyrics by Avis M. Christiansen, 1920
Music by Ludwig van Beethoven, Symphony No. 7, 1811
Arranged by Devra Dato-on, 2012
The Symphony No. 7 in A major, Op. 92, is a symphony in four movements composed by Ludwig van Beethoven between 1811 and 1812, while improving his health in the Bohemian spa town of Teplice. The work is dedicated to Count Moritz von Fries.
The above text from the Wikipedia article "Symphony No. 7 (Beethoven)" text is available under CC BY-SA 3.0.
Other arrangements
Free sheet music on other sites
Buy printed editions
We have selected some printed editions we think may be useful.
---