Bony Bony
Part of String one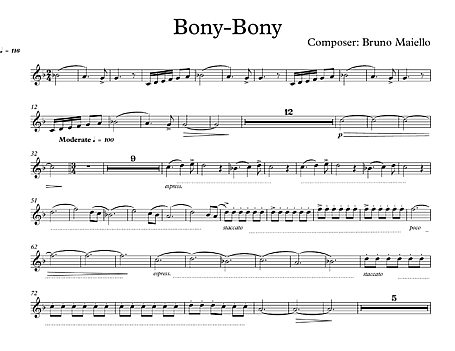 Composer
Opus
WMM 6
Tonality
Year composed
2017
Place of composition
Pages
3
Arranger
Instruments
Type
Difficulty
Licence
Uploaded by
Filesize
40.9 KB
Listen
Be the first to add a recording or video.
No reviews yet
About
Part of the strings one of the variation for orchestra and piano called Bony Bony. Original performance by the No. 2 youth orchestra of Smederevo. Serbia
Bony Bony is the first concertino for piano and orchestra composed by Bruno Maiello. The particularity of this piece. It could be a classic song because of its standard duration. But accompanied as for a symphonic melody. In the old terms of classical music, it would only be a prelude or overture. In modern terms it is a whole piece. Perfectly adapted to the times of the 21st century.
Other arrangements
---