Sonata No. 2
Original version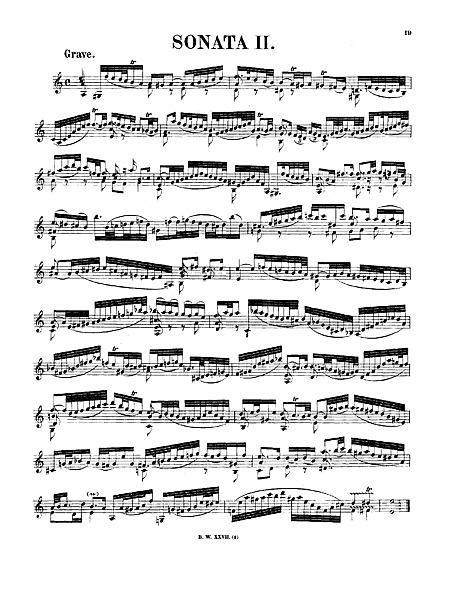 Composer
Opus
BWV 1003
Tonality
Cycle
Pages
8
Instruments
Type
Licence
Uploaded by
Filesize
428 KB
Listen
Be the first to add a recording or video.
About
The movements are as follows:
Grave
Fuga
Andante
Allegro
The sonatas and partitas for solo violin are a set of six works composed by Johann Sebastian Bach. They are sometimes referred to in English as the sonatas and partias for solo violin in accordance with Bach's headings in the autograph manuscript: "Partia" was commonly used in German-speaking regions during Bach's time, whereas the Italian "partita" was introduced to this set in the 1879 Bach Gesellschaft edition, having become standard by that time. The set consists of three sonatas da chiesa in four movements and three partitas in dance-form movements. The 2nd Partita is widely known for its Chaconne, considered one of the most masterly and expressive works ever written for solo violin.
The above text from the Wikipedia article "Sonatas and partitas for solo violin (Bach)" text is available under CC BY-SA 3.0.
Free sheet music on other sites
Buy printed editions
We have selected some printed editions we think may be useful.
$3.95
Piano Solo
G. Schirmer
Other users also liked
---