Liebesträume
Liebestraum No. 3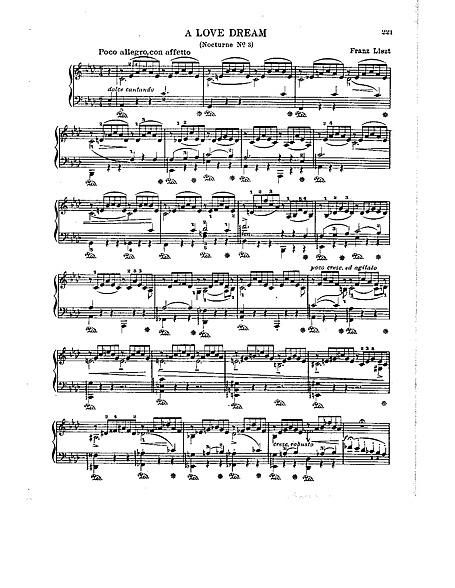 Composer
Opus
S 541
Year composed
1850
Pages
4
Instruments
Type
Licence
Uploaded by
Filesize
310 KB
Listen
Piano
Performed on an 1851 Erard piano CC-BY-SA-2.0

archive.org

Piano
Venue
Carnegie Hall
November 2003

youtube.com

Piano
synthesized with antonio www.antonio-music.org

youtube.com
About
Publisher: New York: University Society, (ca.1910)
Liebesträume is a set of three solo piano works (S.541/R.211) by Franz Liszt, published in 1850. Originally the three Liebesträume were conceived as lieder after poems by Ludwig Uhland and Ferdinand Freiligrath. In 1850, two versions appeared simultaneously as a set of songs for high voice and piano, and as transcriptions for piano two-hands.
The above text from the Wikipedia article "Liebesträume" text is available under CC BY-SA 3.0.
Other sub titles
3. O lieb, so lang du lieben kannst (S.541/3)
Other arrangements
Free sheet music on other sites
Buy printed editions
We have selected some printed editions we think may be useful.
Other users also liked
---