Iolanthe
The Lord Chancellor's Song (scan)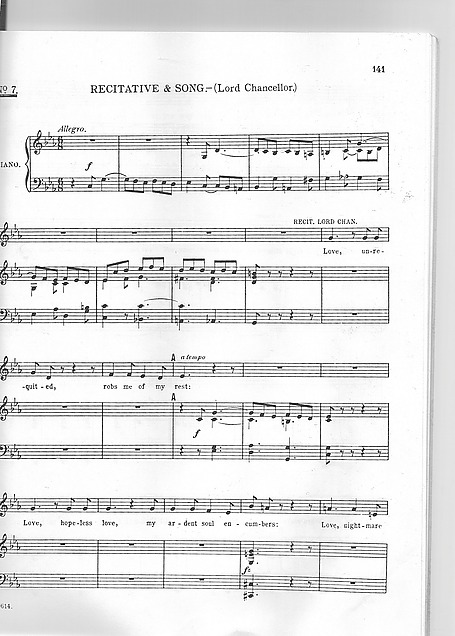 Composer
Pages
12
Instruments
Lyricist
Licence
Uploaded by
Filesize
7.25 MB
Listen
Be the first to add a recording or video.
No reviews yet
Iolanthe; or, The Peer and the Peri is a comic opera with music by Arthur Sullivan and libretto by W. S. Gilbert. It is one of the Savoy operas and is the seventh of fourteen operatic collaborations by Gilbert and Sullivan. In the opera, the fairy Iolanthe has been banished from fairyland because she married a mortal; this is forbidden by fairy law. Her son, Strephon, is an Arcadian shepherd who wants to marry Phyllis, a Ward of Chancery. All the members of the House of Peers also want to marry Phyllis. When Phyllis sees Strephon hugging a young woman, she assumes the worst and sets off a climactic confrontation between the peers and the fairies. The opera satirises many aspects of British government, law and society. The confrontation between the fairies and the peers is a version of one of Gilbert's favourite themes: a tranquil civilisation of women is disrupted by a male-dominated world through the discovery of mortal love.
The above text from the Wikipedia article "Iolanthe" text is available under CC BY-SA 3.0.
Free sheet music on other sites
Buy printed editions
We have selected some printed editions we think may be useful.
$15.99
Choir, Piano Accompaniment, Voice Solo
G. Schirmer
Other users also liked
---