Symphony No. 9
3. Adagio molto e cantabile (full score)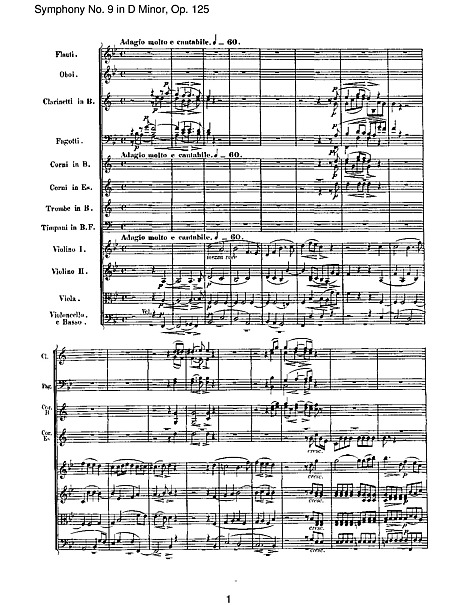 Composer
Opus
Op. 125
Tonality
Pages
16
Instruments
Type
Licence
Uploaded by
Filesize
1.21 MB
The Symphony No. 9 in D minor, Op. 125, is a choral symphony, the final complete symphony by Ludwig van Beethoven, composed between 1822 and 1824. It was first performed in Vienna on 7 May 1824. The symphony is regarded by many critics and musicologists as Beethoven's greatest work and one of the supreme achievements in the history of music. One of the best-known works in common practice music, it stands as one of the most performed symphonies in the world.
The above text from the Wikipedia article "Symphony No. 9 (Beethoven)" text is available under CC BY-SA 3.0.
Other arrangements
Free sheet music on other sites
Buy printed editions
We have selected some printed editions we think may be useful.
Other users also liked
---