Cantata No. 51
Vocal score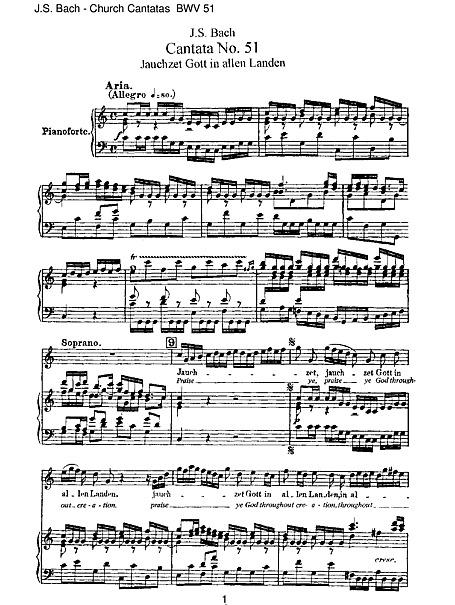 Composer
Opus
BWV 51
Pages
26
Arranger
Instruments
Licence
Uploaded by
Filesize
1.48 MB
Listen
Be the first to add a recording or video.
Johann Sebastian Bach composed the church cantata Jauchzet Gott in allen Landen BWV 51, in Leipzig. The work is Bach's only church cantata scored for a solo soprano and trumpet. He composed it for general use, in other words not for a particular date in the church calendar, although he used it for the 15th Sunday after Trinity: the first known performance was on 17 September 1730 in Leipzig. The work may have been composed earlier, possibly for an occasion at the court of Christian, Duke of Saxe-Weissenfels, for whom Bach had composed the Hunting Cantata and the Shepherd Cantata.
The above text from the Wikipedia article "Jauchzet Gott in allen Landen" text is available under CC BY-SA 3.0.
Other arrangements
Free sheet music on other sites
Buy printed editions
We have selected some printed editions we think may be useful.
$15.95
Soprano Voice, Choir, Piano Accompaniment, Voice Solo
Edition Peters
Other users also liked
---