From Jacareí-São Paulo, Brazil

Carlos Roberto Rocha (b. 1958)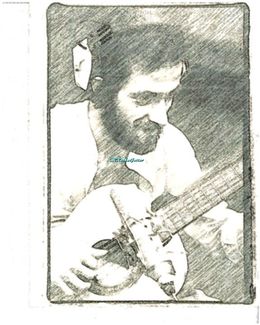 Send message
Professional information
Instruments:
violão e piano
Voice:
baixo-profundo
Skills:
compositor e arranjador
Website:
About me
Carlos Roberto Rocha nick CRRochaGuitar was born in Jacarei, São Paulo, Brazil where he began his guitar studies with his father Edegard Rocha, Oswaldo Damian and piano with Olga Cestari. When invited to work as guitarist with the conductor Saroya Angel Jara, who won the first ideas arrangements, he moved to Rio de Janeiro. Parallel career as a professional musician, I'm with Etha Fraga guitar, harmony with the conductor Guerra Peixe, arrangement with Paulo Moura, and Peter Dalsberg later morphological analysis and composition with Marlene Fernandez.
He worked for 12 years in the DCI (Industrial Company Records) and other labels, but the CID was obtained that basement as an arranger and musician recording with the great names of Brazilian music as Paulo Moura, Copinha's group, Laertius de Freitas, José Roberto Bertrami, Peter Dausberg, Marcio Montarroyos, Jota Moraes, Durval Ferreira, Emilio Santiago, Cauby Peixoto, Dori Caymi, Nana Caymi, Fátima GuedesWaltel Branco, Sivuca, and much more.
In 1978 he made several arrangements to Rede Globo, in 1978 arranged for the singer Aline, Aftermads Group, Carlo, Cauby Peixoto, Margarita Pildayn, Claudinho Veloso and others.
In 1981 along with bassist and composer Jorjão Carvalho joined the poet and the poet Walter Krauser Lizete Mercadante and artist Leo, forming the group "Wish and Nails" which resulted in the recording of "FM Radio Unpublished in Eldorado in São Paulo.
He also worked with the maestro Laércio de Freitas in the Jequetibá Project; composed the soundtrack for the movie "Orestes" group "Hundredone" of Brasilia University; published by the Birdland All Music Book of Guitar Studies and Studies and Pieces for Piano; currently works in the Rio-Sao Paulo and Paraíba Valley with an arranger, composer, guitarist, video editing and audio editing.