From Monza, Italy

Roberto Tremolada (b. 1961)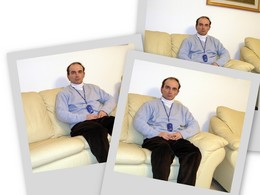 Send message
Professional information
Instruments:
Tastiere , Sint.- Program Notation Miryad France
Skills:
Compositore , Arrangiatore
Qualifications:
Qualifica SIAE come Compositore e Parolere
Website:
About me
Profile Lyricist and composer writing Monzese SIAE Diploma in Electrical and electronic engineering, was born in Monza in 1961 and is located in the world of music to family tradition (his uncle Gabriel was Brioschi musician and orchestral). She studied music (as a self-taught from books published by Little Milan Conservatory New Music). composes songs of various kinds and even tales of fiction and poetry in the Italian language and dialect Lombardo. He self-produced in collaboration with the Digital Editions AM Rome CD with several songs composed, arranged and performed by himself. "LOMBARDI'S CONCERT OF THE XXI CENTURY (The Gardens of the Four Seasons in 2CD) (Robino Family Music Edition) is the title its double CD.Un 'musical work on the history of Lombardy and its traditions. composes a poem for orchestra entitled: THE BATTLE OF RODENTS AND FROG, based on the poem's literary G: The Leopards' War of the Frogs and Mice (translation of 1815). shipyard in the composition of the Symphonic Poem for Orchestra COUNTESS OF KAROLYSTRIA A. Ghislanzoni. He has composed two pieces of sacred music titled "Ave Maria" and "The Power of a Dream" (Lauda Francis 'Assisi), for soprano voice, violin, piano and lyrics by Raffaele Floris.Composto for competition Coups de Vent "On Saturday the Village" and "The calm after the storm" by G. Leopardi for Symphonic Band and a piece for organ and soprano voice (Main Anthem Jubilate) on a text by Paul Gerhardt competition for the Lutheran Church of Napoli.Ha composed a string quartet to comment film "Le Voyage dan la Lune" to contest the clarinetist Stephen Miryad France.Per Carsili he composed the ' Ave Maria, Lauda Antica a San Francesco, Scherzo (from the eponymous poem by G. Leopardi) Ave Verum for violin and piano. For the violinist Valerie Campbell has composed for solo violin Infinity by the poem of the same name G. Leopardi. He also composed of "Meditation for Organ." He has published for IMG tag (www.img-edizioni.it/) Music publishing conducted by Maestro Michael English, an album of modern music with the title: Music Collection Vol .1 - and self MUSIC COLLECTION Vol.2. He has worked as a music critic to the national site www.marchingband.it ... He is actively involved in the Anthropology of Music. He is also interested in video clips and documentaries on video and poetry and fiction. to the photograph obtained many awards and 1st place for photo in B / N Digital and the competition and Monza Park 2007.Ha 2006 and worked as a designer of corporate calendars 2007per image for the Italian company Oppo. He has worked with the American label Kid Antrim Music for a music compilation with various musicians, composers. It has a modern and well equipped music studio to prepare, carve, and print on your own music scores and CD (Software Myriad France). is currently working under contract with IMG and Planet Music Publisher Sagem casting section for polyphonic ringtones. He works for the Association of Lunar Explorer Virtual Paintings Italy. The next production of the double CD "CLASSIC"