I Saw Three Ships
Easy piano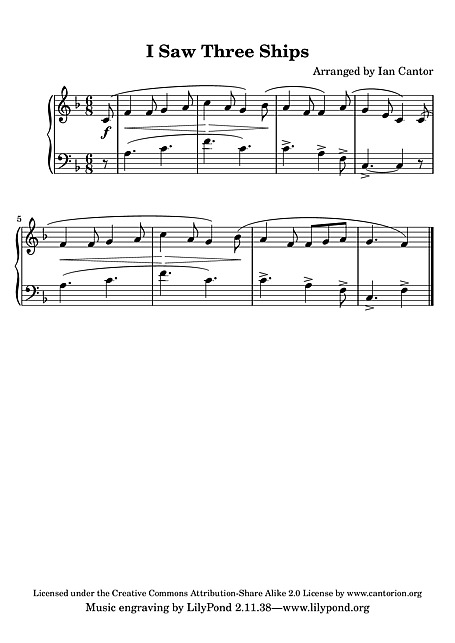 Composer
Pages
1
Arranger
Instruments
Type
Difficulty
Licence
Filesize
57.1 KB
Listen
Piano

youtube.com
About
This is an arrangement of 'I Saw Three Ships' for grade 1-2 piano. It's great for practising arpeggios in the left hand.
"I Saw Three Ships " is a traditional and popular Christmas carol and folk song from England, listed as number 700 in the Roud Folk Song Index. The earliest printed version of "I Saw Three Ships" is from the 17th century, possibly Derbyshire, and was also published by William Sandys in 1833. The song was probably traditionally known as "As I Sat On a Sunny Bank", and was particularly popular in Cornwall.
The above text from the Wikipedia article "I Saw Three Ships" text is available under CC BY-SA 3.0.
Other arrangements
Buy printed editions
We have selected some printed editions we think may be useful.
$1.75
Choral, Vocal
Alfred Publishing
Other users also liked
---