Once in Royal David's City
Four part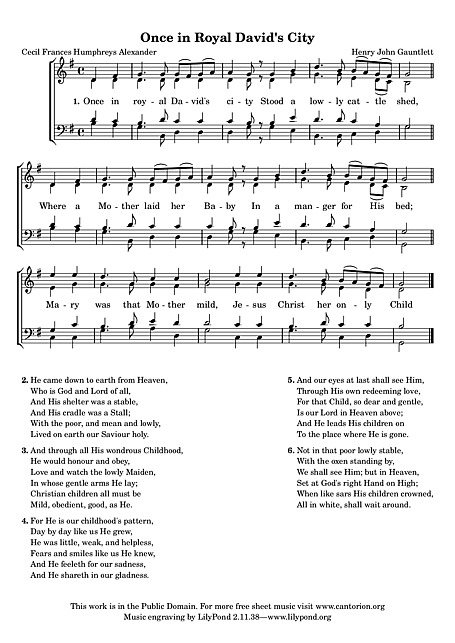 Composer
Pages
1
Instruments
Lyricist
Type
Licence
Uploaded by
Filesize
112 KB
Listen
Choir
Venue
King's College Choir
Carols from King's, 2015

youtube.com
About
This is a transcription from Rev. Richard R. Chope, Carols For Use In Church (London: William Clowes & Sons, 1894).
For a scan of the original, including a detailed dynamics scheme, visit
www.hymnsandcarolsofchristmas.com
Once in Royal David's City is a Christmas carol originally written as a poem by Cecil Frances Alexander. The carol was first published in 1848 in her hymnbook Hymns for Little Children. A year later, the English organist Henry John Gauntlett discovered the poem and set it to music.
The above text from the Wikipedia article "Once In Royal David's City" text is available under CC BY-SA 3.0.
Other arrangements
Other users also liked
---