We Three Kings of Orient are
Four part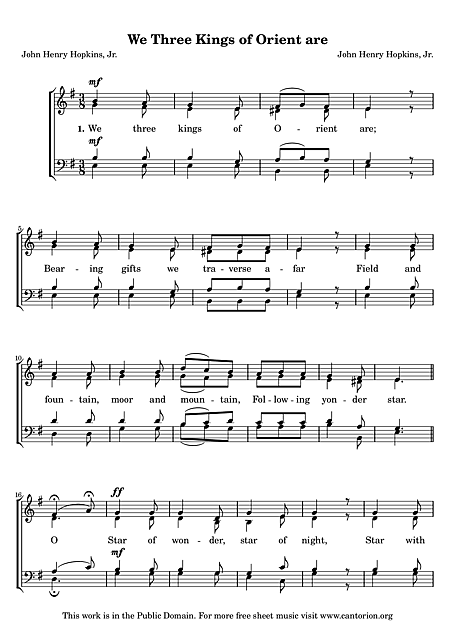 Composer
Pages
2
Instruments
Lyricist
Type
Licence
Uploaded by
Filesize
129 KB
Listen
Choir
Venue
King's College Chapel

youtube.com
About
This is a transcription from Henry Ramsden Bramley and John Stainer, Christmas Carols New and Old (London: Novello, Ewer & Co., ca 1878).
A scan of the original, (giving the short introduction) can be found on
www.hymnsandcarolsofchristmas.com
"We Three Kings", original title "Three Kings of Orient", also known as "We Three Kings of Orient Are" or "The Quest of the Magi", is a Christmas carol that was written by John Henry Hopkins Jr. in 1857. At the time of composing the carol, Hopkins served as the rector of Christ Episcopal Church in Williamsport, Pennsylvania, and he wrote the carol for a Christmas pageant in New York City. Many versions of this song have been composed and it remains a popular Christmas carol.
The above text from the Wikipedia article "We Three Kings" text is available under CC BY-SA 3.0.
Other arrangements
Buy printed editions
We have selected some printed editions we think may be useful.
Other users also liked
---