Piano Sonata No. 11
1. Variation 4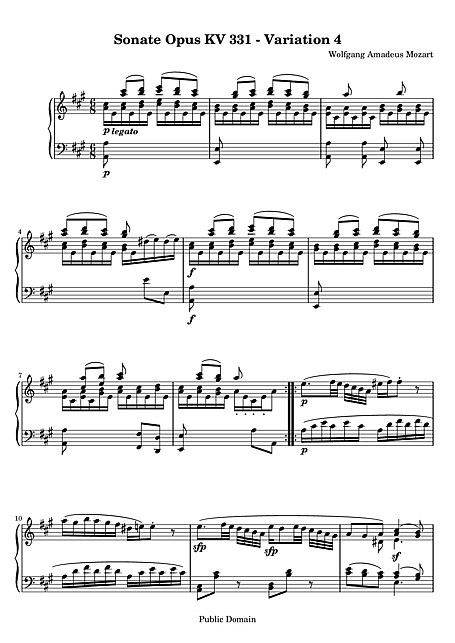 Composer
Opus
K 331
Tonality
Year composed
1778
Pages
2
Instruments
Type
Licence
Uploaded by
Filesize
43.5 KB
Listen
Be the first to add a recording or video.
No reviews yet
About
The Piano Sonata No. 11 in A major, K. 331 / 300i, by Wolfgang Amadeus Mozart is a piano sonata in three movements. Mozart likely composed the sonata while in Vienna or Salzburg by around 1783, although Paris and dates as far back as 1778 have also been suggested.
The above text from the Wikipedia article "Piano Sonata No. 11 (Mozart)" text is available under CC BY-SA 3.0.
Other arrangements
Free sheet music on other sites
Buy printed editions
We have selected some printed editions we think may be useful.
---