The Holly and the Ivy
Piano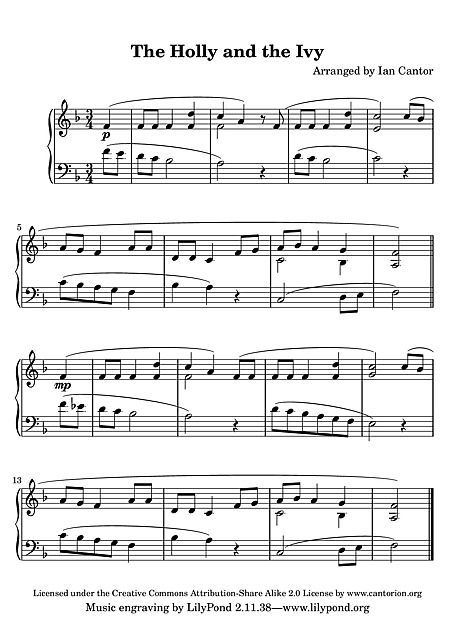 Composer
Pages
1
Arranger
Instruments
Type
Difficulty
Licence
Filesize
39.6 KB
Listen
Piano

youtube.com
About
This is an arrangement of 'The Holly and the Ivy' for grade 2-3 piano. The phrasing is very important - pay attention to the descending scales chasing each other between the two hands.
"The Holly and the Ivy" is a traditional British folk Christmas carol, listed as number 514 in the Roud Folk Song Index. The song can be traced only as far as the early nineteenth century, but the lyrics reflect an association between holly and Christmas dating at least as far as medieval times. The lyrics and melody varied significantly in traditional communities, but the song has since become standardised. The version which is now popular was collected in 1909 by the English folk song collector Cecil Sharp in the market town of Chipping Campden in Gloucestershire, England, from a woman named Mary Clayton.
The above text from the Wikipedia article "The Holly and the Ivy" text is available under CC BY-SA 3.0.
Other arrangements
Other users also liked
---