Orfeo ed Euridice
Overture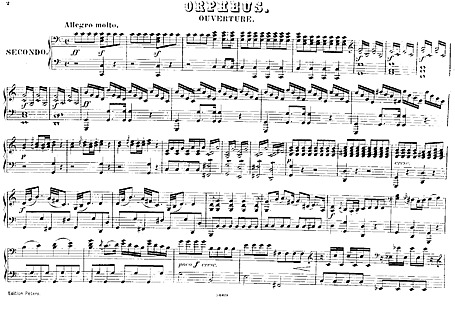 Composer
Opus
Wq. 30
Pages
6
Instruments
Type
Licence
Uploaded by
Filesize
486 KB
Listen
Be the first to add a recording or video.
Orfeo ed Euridice is an opera composed by Christoph Willibald Gluck, based on the myth of Orpheus and set to a libretto by Ranieri de' Calzabigi. It belongs to the genre of the azione teatrale, meaning an opera on a mythological subject with choruses and dancing. The piece was first performed at the Burgtheater in Vienna on 5 October 1762, in the presence of Empress Maria Theresa. Orfeo ed Euridice is the first of Gluck's "reform" operas, in which he attempted to replace the abstruse plots and overly complex music of opera seria with a "noble simplicity" in both the music and the drama.
The above text from the Wikipedia article "Orfeo ed Euridice" text is available under CC BY-SA 3.0.
Free sheet music on other sites
Buy printed editions
We have selected some printed editions we think may be useful.
Other users also liked
---