Angels We Have Heard on High
Voice, SATB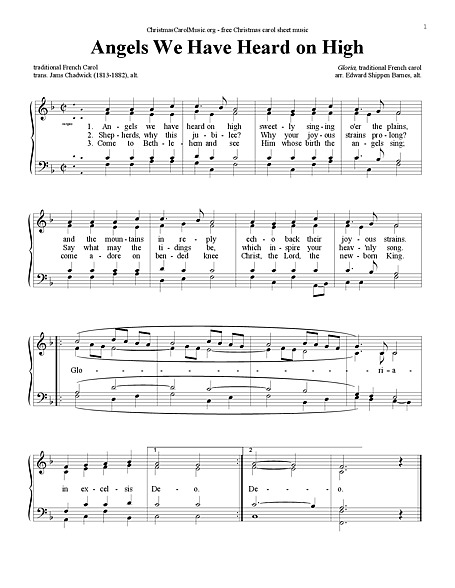 Composer
Pages
1
Instruments
Type
Licence
Uploaded by
Filesize
56.2 KB
Listen
Choir

youtube.com
About
"Angels We Have Heard on High" is a Christmas carol to the hymn tune "Gloria" from a traditional French song of unknown origin called Les Anges dans nos campagnes, with paraphrased English lyrics by James Chadwick. The song's subject is the birth of Jesus Christ as narrated in the Gospel of Luke, specifically the scene in which shepherds outside Bethlehem encounter a multitude of angels singing and praising the newborn child.
The above text from the Wikipedia article "Angels We Have Heard on High" text is available under CC BY-SA 3.0.
Buy printed editions
We have selected some printed editions we think may be useful.
$1.60
Choral, Vocal
Hal Leonard

$22.95
Choral, Vocal
Hal Leonard
Other users also liked
---