Für Elise
Original version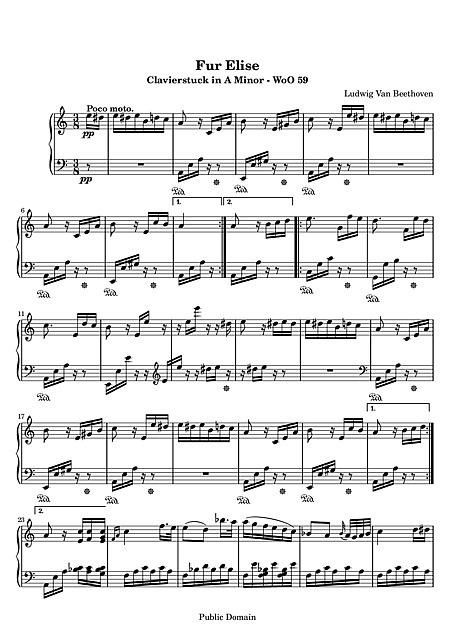 Composer
Opus
WoO 59
Tonality
Pages
4
Instruments
Type
Licence
Uploaded by
Filesize
100 KB
Listen
Piano
Kid just turned 4 plays Fur Elise main theme original version.

youtube.com

Piano

youtube.com

youtube.com

Piano
Fur Elise - Beethoven, Original version performed by 4-year-old piano prodigy Yohan Georgekutty.

youtube.com
About
Bagatelle No. 25 in A minor for solo piano, commonly known as "Für Elise", is one of Ludwig van Beethoven's most popular compositions. It was not published during his lifetime, only being discovered 40 years after his death, and may be termed either a Bagatelle or an Albumblatt. The identity of "Elise" is unknown; researchers have suggested Therese Malfatti, Elisabeth Röckel, or Elise Barensfeld.
The above text from the Wikipedia article "Für Elise" text is available under CC BY-SA 3.0.
Other arrangements
Free sheet music on other sites
Buy printed editions
We have selected some printed editions we think may be useful.
Other users also liked
---