Gabriel's Message
SATB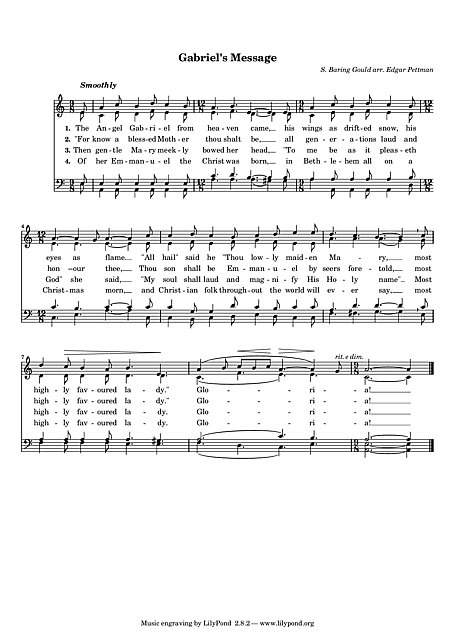 Composer
Pages
1
Arranger
Instruments
Lyricist
Type
Licence
Uploaded by
Filesize
167 KB
Listen
The Choir of King's College, Cambridge, sing the well-known anthem 'Gabriel's Message'.

youtube.com
About
"Gabriel's Message" or "The angel Gabriel from heaven came" is a Basque Christmas folk carol about the Annunciation to the Virgin Mary by the archangel Gabriel that she would become the mother of Jesus Christ the Son of God.
The above text from the Wikipedia article "Gabriel's Message" text is available under CC BY-SA 3.0.
Buy printed editions
We have selected some printed editions we think may be useful.
$1.70
Choral, Vocal
Alliance Music Publications

$1.95
Choir
Roger Dean Publishing

$4.95
A Cappella
Edition Peters
Other users also liked
---