Carol of the Bells
Piano Duet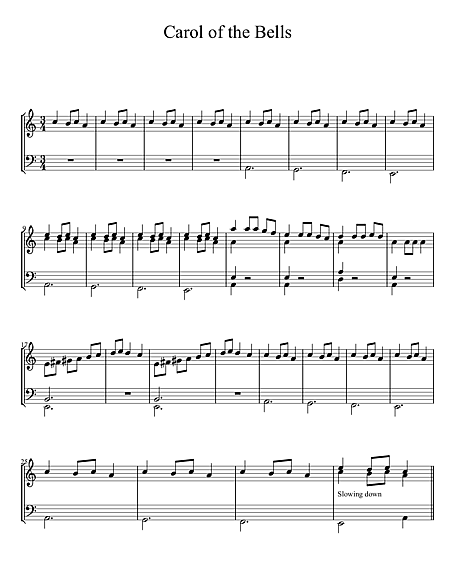 Composer
Pages
1
Arranger
Instruments
Type
Difficulty
Licence
Filesize
18.8 KB
Listen
A simple piano duet arrangement of the Ukrainian Christmas carol, "Carol of the Bells". Video demonstration begins at 0:50.

youtube.com

Saxophone

youtube.com
About
A simple piano duet arrangement of the Ukrainian Christmas carol, "Carol of the Bells".
"Carol of the Bells" is a popular Christmas carol, with music by Ukrainian composer Mykola Leontovych in 1914 and lyrics by Peter J. Wilhousky. The song is based on the Ukrainian folk chant "Shchedryk". Wilhousky's lyrics are under copyright protection ; the music is in the public domain.
The above text from the Wikipedia article "Carol of the Bells" text is available under CC BY-SA 3.0.
Other arrangements
---