God Rest You Merry, Gentlemen
Voice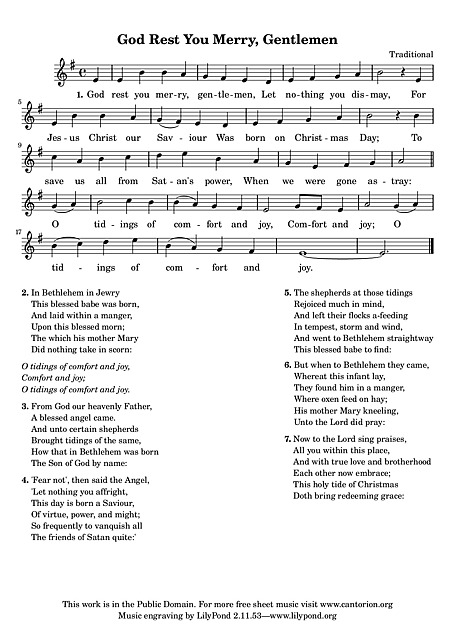 Composer
Pages
1
Instruments
Type
Licence
Uploaded by
Filesize
86.4 KB
Listen
Choir
Venue
King's College Chapel

youtube.com
About
The carol exists in a wide variety of versions, and even with differing numbers of verses. The lyrics given in this version are the most commonly used today, taken from Christmas Carols Ancient and Modern, by William Sandys, published in 1833. The tune originally published in 1833 is different from the one commonly used today. The original chorus words are also different. This version uses the melody and chorus words that are more common today.

The authors of the words and melody are unkown.
God Rest You Merry, Gentlemen is an English traditional Christmas carol. It is in the Roxburghe Collection, and is listed as no. 394 in the Roud Folk Song Index. It is also known as Tidings of Comfort and Joy, and by variant incipits as Come All You Worthy Gentlemen; God Rest Ye Merry, Gentlemen; God Rest Ye, Merry Christians; or God Rest You Merry People All.
The above text from the Wikipedia article "God Rest Ye Merry, Gentlemen" text is available under CC BY-SA 3.0.
Other arrangements
Other users also liked
---