Good King Wenceslas
Voice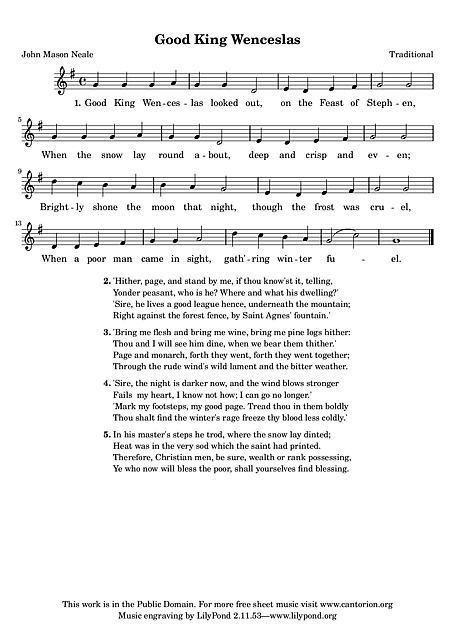 Composer
Pages
1
Instruments
Lyricist
Type
Licence
Uploaded by
Filesize
61.1 KB
Listen
Be the first to add a recording or video.
"Good King Wenceslas" is a Christmas carol that tells a story of a Bohemian king going on a journey and braving harsh winter weather to give alms to a poor peasant on the Feast of Stephen. During the journey, his page is about to give up the struggle against the cold weather, but is enabled to continue by following the king's footprints, step for step, through the deep snow. The legend is based on the life of the historical Saint Wenceslaus I, Duke of Bohemia or Svatý Václav in Czech (907–935). The name Wenceslas is a Latinised version of the old Czech language "Venceslav".
The above text from the Wikipedia article "Good King Wenceslas" text is available under CC BY-SA 3.0.
Other arrangements
Other users also liked
---