Silent Night (
Stille Nacht, heilige Nacht

)
Vocal line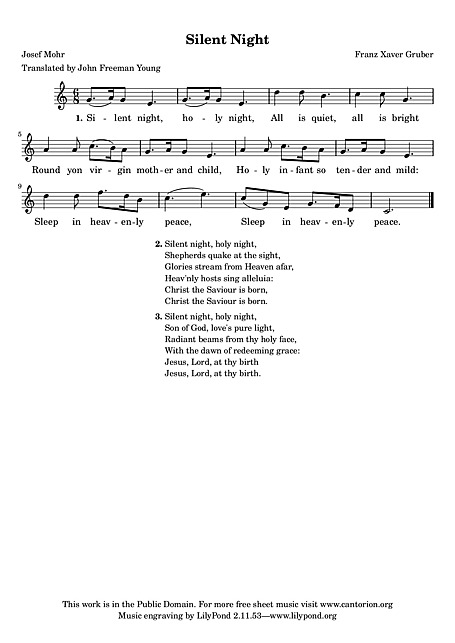 Composer
Pages
1
Instruments
Lyricist
Type
Licence
Uploaded by
Filesize
55.8 KB
Listen
Piano

youtube.com

Choir
Venue
King's College Chapel

youtube.com
About
The original lyrics of the song Stille Nacht were written in German by the Austrian priest Father Josef Mohr, and the melody was composed by the Austrian headmaster Franz Xaver Gruber. The version of the melody that is generally sung today (as in this version) differs slightly from Gruber's original. The English translation in this version is by John Freeman Young.
"Silent Night" is a popular Christmas carol, composed in 1818 by Franz Xaver Gruber to lyrics by Joseph Mohr in the small town of Oberndorf bei Salzburg, Austria. It was declared an intangible cultural heritage by UNESCO in 2011. The song has been recorded by many singers across many music genres. The version sung by Bing Crosby in 1935 has sold 10 million copies as a single.
The above text from the Wikipedia article "Silent Night" text is available under CC BY-SA 3.0.
Other arrangements
Free sheet music on other sites
Buy printed editions
We have selected some printed editions we think may be useful.
Other users also liked
---