Serenade No. 13 "Eine kleine Nachtmusik"
Movement 1 - Violin 1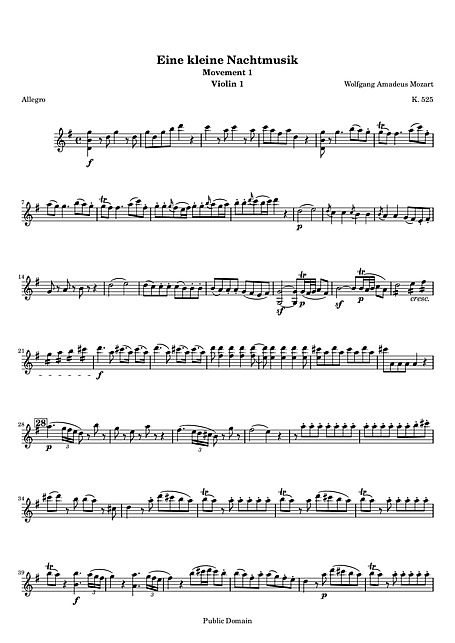 Composer
Opus
K 525
Tonality
Pages
3
Instruments
Type
Licence
Uploaded by
Filesize
102 KB
Listen
Be the first to add a recording or video.
About
Eine kleine Nachtmusik, K. 525, is a 1787 composition for a chamber ensemble by Wolfgang Amadeus Mozart. The German title means "a little serenade", though it is often rendered more literally as "a little night music". The work is written for an ensemble of 2 violins, viola, cello and double bass, but is often performed by string orchestras.
The above text from the Wikipedia article "Serenade No. 13 (Mozart)" text is available under CC BY-SA 3.0.
Other arrangements
Free sheet music on other sites
Buy printed editions
We have selected some printed editions we think may be useful.
Other users also liked
---